Theresa May is coming under increasing pressure to set out where she stands on Britain's future trade agreements.
Speaking at the end of a trade visit to China, the PM said Britain would not face a choice between a free trade deal with the EU after Brexit and striking deals with the rest of the world.
It comes as she has faced criticism from Eurosceptic Tory MPs that she is heading for a "Brexit in name only".
Full negotiations on the UK's 2019 exit are to resume on Monday.
Brexit Secretary David Davis will meet his EU counterpart Michel Barnier in London on Monday for the first time this year, with officials from both sides continuing technical discussions during the week.
During the prime minister's three-day visit to China, Downing Street said more than £9bn of business deals were signed and it agreed to a joint investment and trade review as the "first step" to an "ambitious" post-Brexit deal with the world's second largest economy.
However, Mrs May has faced growing criticism from MPs, including many in her own party, who have called for her to be more specific about her priorities on UK's future trade arrangements with the EU.
In an interview with Bloomberg News, Liam Fox, who was with Mrs May in China, said the UK cannot be involved in any customs union with the EU following Brexit.
Number 10 said the international trade secretary was speaking for the government – but also said the details of future arrangements with Brussels were a matter for negotiation.
"It is fair to say the prime minister has an open mind when it comes to these negotiations," a Downing Street spokesman said.
Analysis
By Iain Watson, BBC political correspondent
While Theresa May has been away – successfully signing trade deals – I have been assessing the battles she faces on the home front, within her own party.
What is most striking is that some who supported her have, at the very least, become wobblier. One ex-minister said he felt "badly let down". She has been accused of blocking, not delivering, radical change.
A former supporter questioned her lack of decisiveness: "She has more reviews than a film critic would produce in a lifetime."
A Remainer who despises Boris Johnson wondered if – to coin a phrase – the foreign secretary's "bad leadership would be better than no leadership".
Council candidates fear poor results in London's May elections and think this could be a trigger for the PM to go.
And a Conservative-supporting business leader felt – though he didn't advocate it – that her opponents "will pull the pin from the grenade".
Downing Street believes the feeding frenzy of speculation will abate when more progress is made on EU withdrawal. But they are aware of the challenges at home as well as abroad.
Speaking to the BBC's political editor Laura Kuenssberg, the prime minister said she had already spelled out what she wants from the deal and did not believe the UK would have to choose between Europe and the rest of the world.
"I don't believe that those are the alternatives," she said.
"What the British people voted for is for us to take back control of our money, our borders and our laws and that's exactly what we are going to do.
"We also want to ensure that we can trade across borders."
Chinese media reaction
By Kerry Allen, China Media Analyst, BBC Monitoring
Mainland Chinese media have praised Theresa May's 31 January-2 February visit from start to finish.
Official broadcaster CCTV says that the nickname media have given her – "Auntie May" – shows that she has become "one of the family" and newspapers have heralded her trip as showing that Sino-UK ties signal new heights for bilateral cultural exchanges, and post-Brexit trade deals.
They have also given a nod to Mrs May for, reportedly, not raising human rights issues in Hong Kong during her stay.
Nationalist newspaper Global Times commends the UK prime minister for "not making any comment contrary to the goals of her China trip", saying "the losses outweigh the gains if she appeases the British media at the cost of the visit's friendly atmosphere".
Independent Hong Kong and Taiwanese media have been critical of the Prime Minister for not raising the contentious issue of pro-democracy protests.
Publications including influential paper South China Morning Post quote former British governor Chris Patten, who said the Hong Kong dialogue was "critical" to granting assurances that developing ties with the mainland won't come at Hong Kong's expense.
The prime minister has come under pressure from Eurosceptics worried about potential concessions by the UK in the Brexit talks.
Last week, Chancellor Philip Hammond suggested Britain's relationship with the EU would change only "very modestly" after Brexit.
However, cabinet members – including Foreign Secretary Boris Johnson – have warned the UK will lose the main advantages of Brexit if it remains bound by trade rules of the single market and customs union.
They have called for the prime minister to be clearer about her own position.
She told the BBC her goal in upcoming talks with Europe was to strike a deal that "is going to be good for trade between the UK and EU and good for jobs in Britain".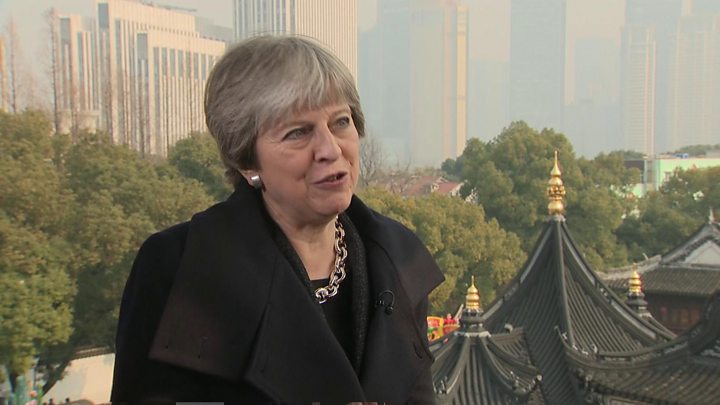 She added: "It means a free trade agreement with the EU. We are now starting to negotiate that free trade agreement with the EU."
She has repeatedly said Brexit will mean leaving the single market and customs union.
Asked again about her own future as prime minister, Mrs May said: "I'm not a quitter. I'm in this because there is a job to be done here and that's delivering for the British people and doing that in a way that ensures the future prosperity of our country."